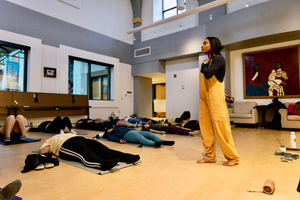 Empathy Grown
$100 Direct Donation to Empathy Grown's Healing Justice Scholarship
Regular price
$100.00
$0.00
Unit price
per
Empathy Grown is small business that started in summer 2020 by me, Soraya Latiff. Each month I donate a percentage of my sales to an organization supporting BBIPOC lives, equity and justice. This month I am creating an unrestricted scholarship (s) of $500-$1000 directly to a Black, Brown, Indigenous students of color/body of culture ages 16-25 to use at their discretion towards their education (higher education, continuing education, training or certification).  
The Empathy Grown Healing Justice scholarship is a part of Empathy Grown's vision to cultivate generational financial wellness and access through mutual aid and community for ourselves and our people, all at once. I am because you are. You are my other me. 
Soraya was raised by a single mother and is a first generation immigrant, oldest sister and educator, organizer and a trauma informed yoga and mediation teacher. 
This scholarship will support a young person of color/body of culture who has engaged in community organizing work in their communities while also practicing healing in themselves and/or with community. Whose community organizing work addresses (directly or indirectly) healing generational trauma while creating a new resource/movement/change/awareness in their communities around an issue of injustice and social change. Priority will go to those who have grown up in single parent households. 
This purchase serves as a direct donation to the scholarship and can be added to your cart in addition to a pair of earrings or paid for on its own. Thank you so much.
---
Share this Product
---