With a resilience, I didn't yet know I possessed

We the people, have a lot more worth fighting for

Black and Brown, you are baked in beauty.

There are so many parts that make me and I will them to exist freely

Your ancestors made room for you to thrive

Your grandmother's prayers reach beyond oceans to hold you
With a resilience, I didn't yet know I possessed
We the people, have a lot more worth fighting for
Black and Brown, you are baked in beauty.
There are so many parts that make me and I will them to exist freely
Your ancestors made room for you to thrive
Your grandmother's prayers reach beyond oceans to hold you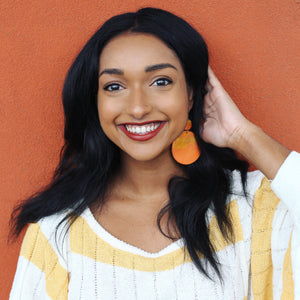 Empathy grown, from our roots to our rising.
Empathy Grown was created amidst the ongoing racial justice and COVID-19 crises at the end of 2020 by Soraya Latiff in Denver, CO on Arapahoe land. Soraya grew up in Trinidad and Tobago. Her ancestors are East Indian, West African, Chinese, and Indigenous. She is a youth organizer, social justice educator, yoga teacher and educational dignity researcher. In the world as it is Soraya finds what we choose to adorn ourselves with as not only a means to express ourselves, but also as a reminder of our inherent agency, dignity and liberation.
The handmade clay earrings Soraya designs are each inspired by journal writing that center our becoming, our healing, our grief and our joy during these times. Each piece includes an anecdote from that journalling. Since its inception Empathy Grown has financially nurtured other organizations every other month that focus on the healing or the thriving of Black, Brown and Indigenous peoples.
Empathy Grown also raised funds to support 7 women of color who are small business owners. Soraya's work and this art centers the value of growing, becoming and healing together - she seeks to cultivate and expand shine and wellness through all that our hands create.
Through Empathy Grown, Soraya also leads yoga, meditation and healing justice movement sessions or workshops for community-based organizations in person or over Zoom.
Email empathygrown@gmail.com for a sliding scale rate for a session with Soraya. Soraya also teaches yoga at Urban Sanctuary in Five Points, Denver, CO.
Handmade polymer clay earrings
15-20% of purchases each month go to an organization or individual supporting Black, Brown and Indigenous lives.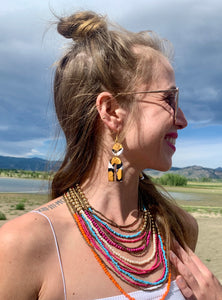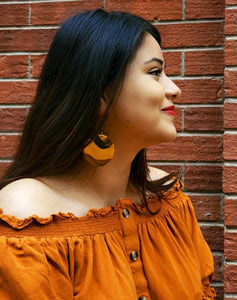 Inquiries on availability
Each piece reflects something I hadn't yet seen out in the world so I wished to cultivate it. The colors, the shapes, and the writing each mean a lot to me. If you see something you loved but it's no longer available, message me on instagram at @empathygrown or email me at empathygrown@gmail.com to let me know your interest - time and materials are a gift right now so as I have more of each to dedicate to creating these pieces, I am happy to work with you to get you the pair you love.